Summary & Objective:



The

 

Questyle

 

M12 is the first ever dongle release by Questyle promising outstanding performance as always. It comes with great build quality and some nifty features like Smart Impedance detection and Current Amplification which makes it a great contender for the price bracket.


Introduction:

The Questyle M12 comes with great machined aluminum build and promises outstanding sound performance for the price bracket. It is the first ever dongle release by Questyle and have some very nifty new features built-into it.
The Questyle M12 is priced at $139.

Disclaimer:

This unit was sent by

 

Questyle

 

for the purpose of an honest review.
Everything mentioned in this review are purely my own based on my experiences with the Dongle DAC/AMP.



Specifications:

Material: CNC machined aluminum
Color: Black / Silver
Size: 51[L] X 16.5[W] X 8.1[D] (mm)
Operating System Required:
Android phone and pad: Android 5.0 and above
PC: Win10 1803 and above
Apple cellphone: iOS (You need to buy an OTG cable for Lightning to Type-C.)
Apple computer: Mac OS
DAC Capability of M12:
PCM: 32kHz – 384kHz (16/24/32Bit)
DSD: DSD64(1Bit 2.8MHz) , DSD128(1Bit 5.6MHz), DSD256(1Bit 11.2MHz)

Output Power:
Built-in smart detection circuit will automatically self-adjust the output power to fit different
impedance of headphones.
RL=16Ω,Po=46.11mW;
RL=32Ω,Po=26.71mW;
RL=300Ω,Po=12.26mW;
When the detected impedance is less than 70Ω, M12 will self-adjust to low gain output.
When it is more than 70Ω, M12 will self-adjust to high gain output.
When it is more than 600Ω, M12 will automatically switch to 2Vrms line out.
Frequency Response: ±0.1dB(20Hz-20kHz)
THD+N: 0.0003%
DAC: ESS flagship USB DAC chip ES9281AC
NOW LET'S TALK ABOUT THE SOUND....
Items Used for this Review:
IEMs: @Vision Ears EXT, @DUNU-Topsound ZEN PRO, @CampfireAudio Dorado 2020, Holocene, Honeydew, @UniqueMelody MEST MKII, @IkkoAudio OH2, Tinhifi T3 plus, P2 Plus

Source

 

: iPad Pro, iPhone 13 Pro max
Streaming Source:

 

QOBUZ



Tracks Used:
The tracks I have used can be found from the below playlist that I have used and generally use for most reviews...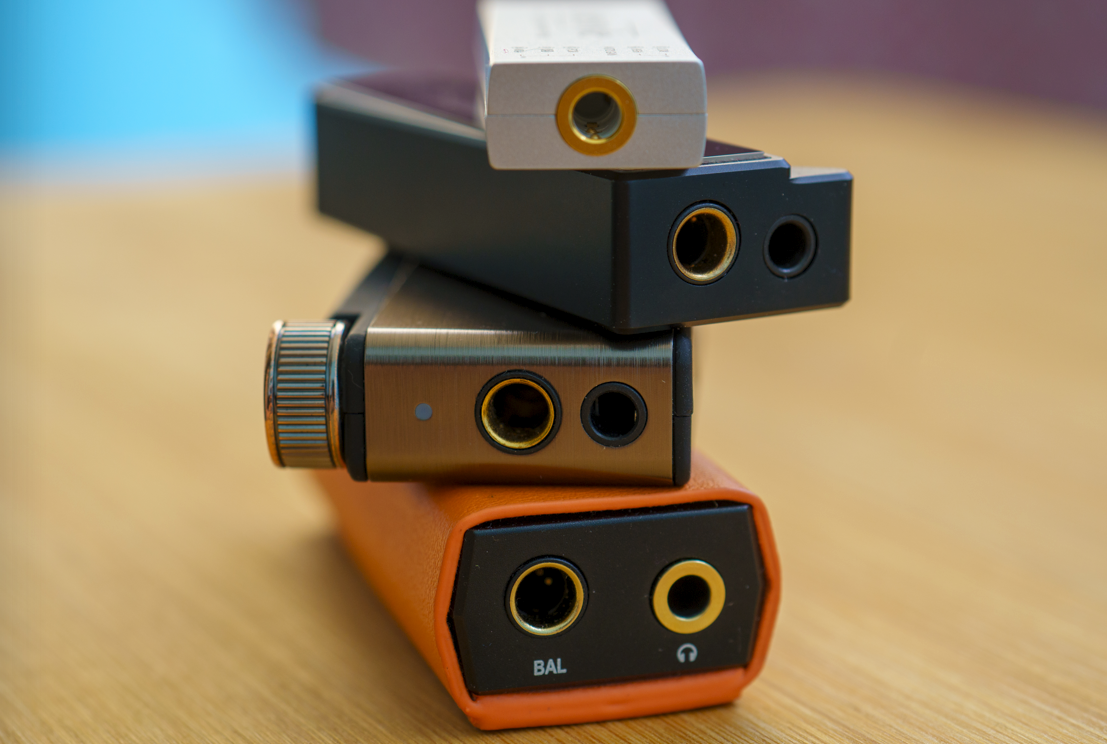 QUESTYLE M12 Sound Impressions in Short:

The BASS:

The Bass sounds just great. has enough details and is able to produce enough attack in the mid base region as well. In tracks like : "Anna R. Chie (Remastered) - Konstantin Wecker" and "Dreams (2001 Remaster) – Fleetwood Mac" you can feel the the deep attack of the different instruments with just enough details. The thumps and slams are very enjoyable.

The MIDS:

The Midrange really just excels in terms of every single element. It is able to produce an good creamy smooth and textured midrange that is soothing to the ears while having enough details in it. The vocals are natural and both male and female vocals come with good amount of details. Instruments sounded natural. In tracks like: "Anchor - Trace Bundy" and "Ruby Tuesday - Franco Battiato" while you will love the overall midrange specially transients of the guitars, violins etc... instruments and the vocals.

The TREBLE:

Though some people may complain the ESS DAC chip being a bit bright signature specially in the Treble region - this implementation is just great and seemed quite the reference grade. Hence, the treble just sounded nice and full and without any unwanted peaky-ness.

STAGING & RESOLUTION:

The staging and resolution is just great and just the amount the track requires. Nothing artificial here. Tracks like: " She Don't Know – Melody Gardot" or "Bohemian Rhapsody (live aid) – Queen" sound good & enjoyable. Resolution is amongst the best in the price bracket and better than few others above it's price bracket also.

Impedance & Amplification:

The smart impedance features seemed to work correctly in all cases that I've tested and the dongle was able to power all IEMs with the rare exception of the Tinhifi P2 plus which requires desktop grade amplification and power.

Pairing:
The best pairing experiences I have found are with slightly warmer or reference grade IEMs. Unlike some other ESS DAC implementations, this doesn't have the tendency to increase peaky-ness when paired with bright IEMs


Comparisons:

Though I have compared all 4 of the dongles I had in my possession -

 

@iFi audio

 

Go Blue, Qyestyle M12, Luxury precision W2 and the Cayin RU6 dongles, it wouldn't be fair to compare Questyle M12 with dongles twice it's price. Hence, comparison had been done mainly with the iFI Audio Go Blu which comes at slightly higher price range of $199. Since the Go Blu has BT features also which is not present in M12 - the below comparison is based on wired connection only.BT performance not taken into account here.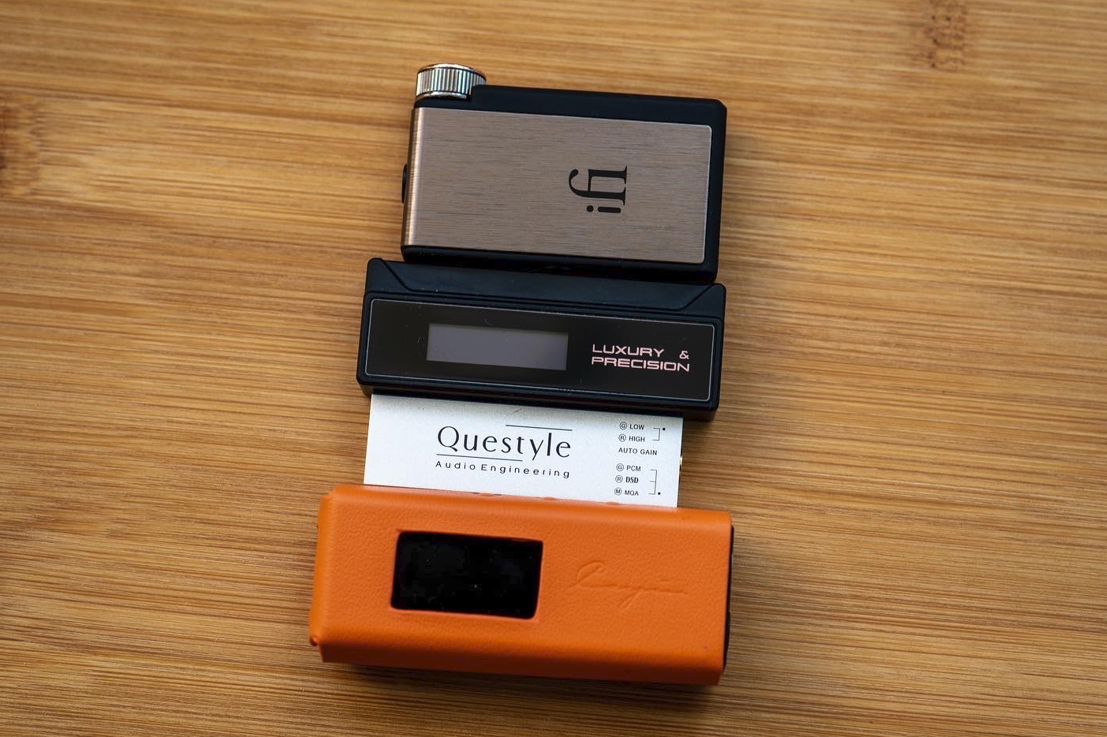 Questyle M12 vs iFi Audio Go Blu:

Build quality:

 

Both dongles are of extraordinary build quality and have lush premium looks.

Features & Amplification:

 

While BT features of the Go Blu not taken into account - the smart impedance is a great nifty feature of the M12.the volume dial is a great feature of the Go Blu. both dongles have good amount of power and amplification

Sound performance:

 

This is where the M12 was found significantly better. The midrange on the Go Blue sounded quite thin and was missing enough texture. the treble also was found a bit on the brighter side on the Go Blu. The M12 was surprisingly quieter than the Go Blu also.

Resolution & Staging:

 

both dongles have equally good staging performance but the Go Blu lacked slightly in terms of resolution to my ears.




Conclusion

 

:

The superb performance of the

 

Questyle

 

M12 makes it an easy recommendation to anyone who is looking for a dongle in the $150-200 price range. There are many dongles below the $150 price ranges including Shanling UA2, etc.. and some at slightly higher range like the Go Blu - but the M12 outperforms them all and can easily be considered the King of $150 range dongles.